Creating Jobs and Spurring Investments in Low-Income Communities
As California's economy recovers, millions of Californians remain out of work or underemployed. Nearly one-quarter of Californians live in poverty — the highest rate in the nation.
Bill Pace and Beth Sirull believe helping small businesses succeed is key to tackling this challenge. As Chair and President, respectively, of Pacific Community Ventures (PCV), they are linking small business entrepreneurs with expert advisors and private investors to help expand economic opportunity in low-income neighborhoods. They back many of these companies with loans ranging from $50,000 to $200,000.
"Our loans are available to businesses that banks won't lend to," Beth Sirull says. "But it's not just about the money. To take a loan, applicants must engage with business advisors whose expertise helps mitigate risk, both for the private investors and the entrepreneurs."
Through its online platform, BusinessAdvising.org, Pacific Community Ventures matched the skills of 400 business professionals across the country with the needs of more than 250 California entrepreneurs in 2013. It is a winning combination — PCV helped create hundreds of new jobs and sustain thousands more in the state, generating more than $70 million in wages paid to residents of low-income communities in 2013 alone. With thriving local businesses, these areas attract further investment.
Small businesses are the engines of job creation. But half of them fail, and when they do, those jobs go away. This is especially hard on low-income communities. We're working to change that.

Bet Sirull & Bill Pace
Pace and Sirull credit state programs like the California Organized Investment Network (COIN) tax credit for helping incentivize private capital to invest into small businesses, and believe more can be done to spur investment into distressed neighborhoods.
"We would like to see more programs like COIN, where public policymakers create the incentives and the structure that private investors can participate in," Bill Pace says.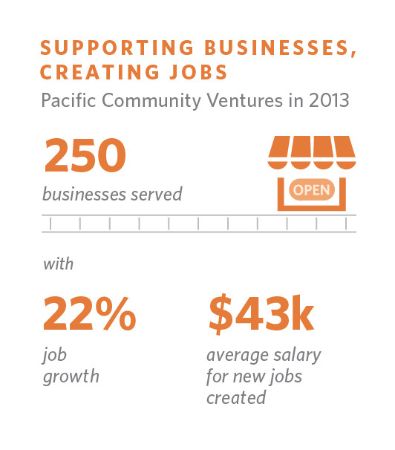 Video by Talking Eyes Media
---
The written profile and video reflect the work of the leader(s) the year they received a Leadership Award. Please contact the leader(s) for current information.