Restoring Dignity to Californians Experiencing Homelessness
In 2012, Doniece Sandoval was a marketing executive raising her family in San Francisco's Western Addition. As her neighborhood became more trendy, she witnessed elderly neighbors facing eviction and homelessness.
Sandoval had a first-hand glimpse into a growing problem in California. In 2016, more than 118,000 Californians were homeless, with two-thirds lacking shelter of any kind — the highest rate in the nation.
An idea was born when Sandoval encountered a woman on the street crying, "I will never be clean!" Learning that San Francisco has only 16 public showers for as many as 7,000 people living on the streets, she got to work.
She discovered that San Francisco planned to replace old public buses and promptly crowdfunded $75,000 to secure and retrofit the vehicles with showers and toilets. Because the buses could not carry large water tanks, she gained permission to tap fire hydrants and heat water on-site.
With her new solution up and running, Sandoval launched Lava Mae in 2013. Since then, the organization has provided over 15,000 showers to more than 3,000 people experiencing homelessness. Today its four mobile hygiene units can serve 9,000 people per year, including recent expansions to Los Angeles and Venice, California.
With hygiene comes dignity, and dignity unlocks opportunity. Everyone has a right to be clean. People struggling with homelessness need this the most.

Doniece Sandoval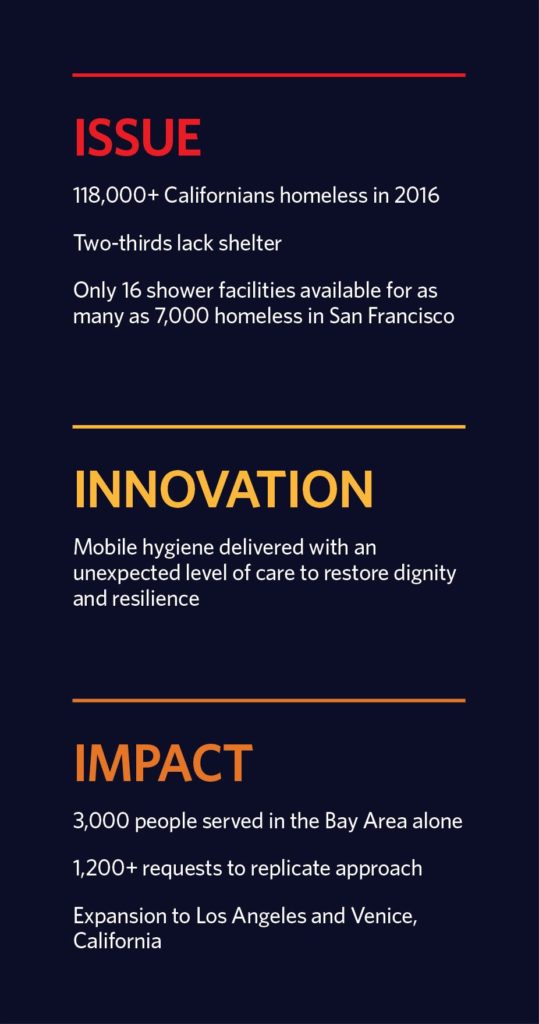 Sandoval and her team deliver an unexpected level of care they call "radical hospitality," aiming to restore dignity and resilience that can help individuals transition out of homelessness. During 15- to 20-minute appointments, guests are provided with fresh towels, music, toiletries, a hygiene kit, and respectful personal attention. "We've learned that how you serve people is just as important as what you're providing."
Last year, the organization created Pop-Up Care Villages, which bring together nonprofits, public agencies, and social entrepreneurs to provide dental and health care, Medi-Cal registration, haircuts, clothing, and job counseling at temporary sites where people naturally congregate. Sandoval and her team have found that their mobile hygiene services are an important entry point to help individuals access more intensive, transformative help. Similar approaches inspired by Lava Mae have sprung up around the world, and the organization will soon share its model through an open source toolkit in response to thousands of requests.
Los Angeles, where Lava Mae has expanded, has declared a state of emergency to address homelessness. Sandoval urges San Francisco and the state to follow suit to leverage federal assistance — and for every Californian to better understand the dimensions of homelessness. "We want to transform how communities see and serve people moving through homelessness," she says.
Video by Talking Eyes Media
Lava Maex
(Formerly Lava Mae)
Updates
In 2020, Doniece stepped down as CEO and LavaMae relaunched as LavaMaex, a nonprofit accelerator supporting communities around the globe launching Lava Mae-designed programs. Doniece now serves LavaMaex as a volunteer advisor and spokesperson.
---
The written profile and video reflect the work of the leader(s) the year they received a Leadership Award. Please contact the leader(s) for current information.