Fostering Opportunity Through Entrepreneurship
In California's San Joaquin Valley, the impact of the Great Recession was compounded by drought, severely limiting job prospects in a traditionally agricultural region. Today, unemployment rates throughout the Valley are substantially higher than the state average.
In the face of these challenges, Dora Westerlund, CEO of the Fresno Area Hispanic Foundation, offers new means to income and advancement through entrepreneurship.
Westerlund credits her enterprising father, who started tourism businesses, for providing her with education and opportunities. "Business ownership creates value for generations," she says.
Entrepreneurs are great economic drivers. They create new educational and career opportunities for their children, and grow to employ many others in the community.

Dora Westerlund
As CEO, she expanded the organization's mission from a traditional Chamber of Commerce to focus on small business startup and growth — including a downtown hub that features the first bilingual business incubator in the Western United States. The Downtown Business Hub provides new business owners with professional services and workspaces, internet access, phones, a receptionist, and bilingual colleagues — including fellow entrepreneurs and experts in tax, law, finance, and business planning.
"Our entrepreneurs are good at what they do but less likely to have the business plan and financing to get off the ground," says Westerlund. "That's what we give them." Through partnerships, the Foundation also provides eight-week business planning courses, one-on-one technical assistance, and microloans.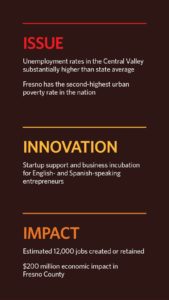 Since the incubator opened in 2011, nearly 80 businesses have emerged, including restaurants, supermarkets, consultancies, medical practices, and many others. Westerlund is proud of their 70 percent success rate, which beats statewide odds.
"Starting a business takes trust and confidence," says Westerlund. "Finding support and resources in your primary language can be pivotal." Roughly half of Fresno County identifies as Latino or Spanish speaking.
Over the last 15 years, the Foundation has created or retained roughly 12,000 jobs, with an estimated economic impact of $200 million. Westerlund is expanding her work to include a touring program that brings small business workshops to aspiring entrepreneurs in the region's remote, rural areas. She argues that easing insurance, bonding, and collateral requirements could remove common barriers to small business growth and boost economic development in the region.
Video by Talking Eyes Media
---
The written profile and video reflect the work of the leader(s) the year they received a Leadership Award. Please contact the leader(s) for current information.