Changing Lives in Prison Classrooms
As California works to reduce its prison population by federal mandate, recidivism remains a significant challenge. More than 60 percent of those paroled return to prison within three years.
Jody Lewen, Executive Director of the Prison University Project at San Quentin State Prison, is demonstrating how quality education can be a part of the solution. She manages the only fully on-site program in the state prison system to confer college degrees. The program offers both college preparatory and college credit classes to approximately 330 men.
Unlike other prison education efforts, the Prison University Project at San Quentin does not restrict eligibility based on age, length of sentence or type of offense. According to Jody Lewen, this approach has helped the program have an impact beyond those enrolled. "The effect on prison culture is visible," she says. "It makes the institution safer for both prisoners and staff, and creates a more positive social environment."
Research shows that Lewen's efforts are bearing fruit. A study of the program in 2012 found the rates of recidivism for graduates of the college program were more than three times lower than for those who leave California's state prison system generally.
Providing quality educational opportunities to people in prison is a win-win. Students are prepared to re-enter the mainstream as educated, productive members of society. This promotes healthy families and communities, improves public safety, and cuts costs to California taxpayers.

Jody Lewen
Funded with private dollars, the college program draws on more than 100 volunteer instructors from local colleges and universities, including the University of California, Berkeley, Stanford University, the University of San Francisco and San Francisco State University. Lewen sees an opportunity for other correctional facilities to support high-quality education, emphasizing the positive impact on those enrolled and the communities to which they eventually return.
"While attending classes in prison, students begin to recognize their own abilities and potential," Lewen says. "After release, they are much more likely to acquire jobs that pay a living wage, support their families and encourage all those around them to pursue their education."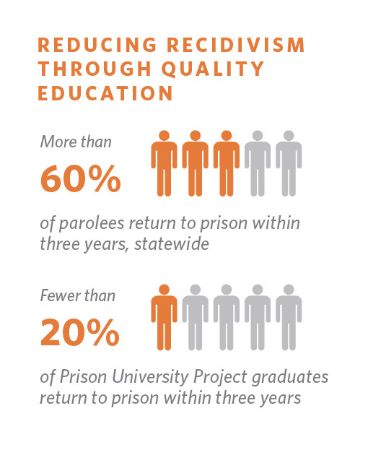 Data from the 2013 California Department of Corrections and Rehabilitation, and a 2012 program evaluation of the Prison University Project.
Video by Talking Eyes Media
---
The written profile and video reflect the work of the leader(s) the year they received a Leadership Award. Please contact the leader(s) for current information.