Revitalizing Urban Manufacturing For Middle-Class Jobs
What do you get when an organization supporting local manufacturers works side-by-side with city leaders intent on helping them succeed? The emergence of an urban manufacturing sector that holds promise for workers across the economic spectrum.
"Manufacturing remains one of the few sectors that creates pathways to middle-class jobs," says Kate Sofis, executive director of SFMade, a nonprofit organization that helps local manufacturers start, stay, and grow. "Cities offer distinct advantages for manufacturers, like excellent transportation and public infrastructure. We also have the density and diversity of talent to enable rapid product development and innovation."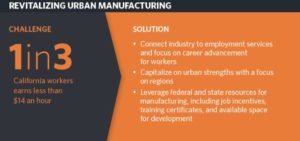 "One of San Francisco's biggest challenges is ensuring there are good-paying jobs for residents who have less formal education, particularly those without a four-year degree," says Todd Rufo, director of the city's Office of Economic and Workforce Development. "That's why our partnership with SFMade is central to helping create a local economy that works for everyone." The city has worked closely with SFMade since its inception, including providing its early seed funding. Today, SFMade works with more than 600 local manufacturers, ranging from startups to 100-year-old brands. Its member companies have access to a network of services, such as business advising, workforce recruitment, and training. The organization works with the city to resolve issues with permitting, zoning, and other constraints on business growth. Together, member businesses generate $585 million each year and employ more than 5,000 people. In each of the six years since SFMade was established, San Francisco has seen more than 10 percent annual growth in manufacturing.
Manufacturing remains one of the few sectors that creates pathways to middle-class jobs.

Kate Sofis
In collaboration with city officials, SFMade is making it easier for manufacturers to grow in one of the nation's most expensive cities. The organization has helped 35 businesses relocate to new or expanded facilities, and championed zoning and tax reforms to create an incentive for commercial developments that include affordable industrial space. SFMade also encourages collaboration among manufacturers across California's regions, and advocates for state investment in the National Manufacturing Extension Partner program, which brings federal matching dollars to support local industry.
Video by Talking Eyes Media
---
The written profile and video reflect the work of the leader(s) the year they received a Leadership Award. Please contact the leader(s) for current information.