Investing in Pathways out of Poverty
When Peter Weber retired from a successful career in business, he didn't take life easy. Instead, he took aim at a challenge facing communities in Fresno and throughout California: concentrated poverty.
"Nearly 100 federal antipoverty programs have sprung up since America's war on poverty began in the 1960s. But it's almost impossible for people in poverty to navigate through these programs," says Weber. In 2010 Weber launched the Fresno Bridge Academy, a program that directs public assistance dollars to helping people move past poverty toward meaningful employment and self-sufficiency.
The Academy, managed by Fresno nonprofit Reading and Beyond, connects participants to career and family navigators who guide adults through career training, job search, and life skills such as household budget management. With a focus on the whole family, children can also receive mentoring and tutoring to advance their learning and well-being.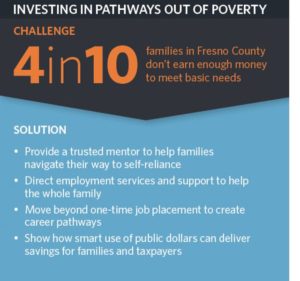 Through its network of service providers, Fresno Bridge Academy provides many services at neighborhood sites such as community and recreation centers. Weber stresses the importance of working with people where they live, to ease transportation issues and deepen relationships that are vital to helping people transition into jobs and careers.
Most of the people entering Fresno Bridge Academy are unemployed. By the end of the 18-month program, four out of five have jobs or have increased their wages, and more than a quarter no longer need public assistance. The Academy developed a calculator to understand the results of its work. It shows that for every taxpayer dollar invested, Academy services generate a $22.28 return on investment — $16.78 for participating families and an additional $5.50 for taxpayers.
Most subsistence programs make poverty more tolerable. We are helping people lift themselves out — and saving money doing it.

Peter Weber
Based on these results, the U.S. Department of Agriculture selected Fresno Bridge Academy as one of 10 national pilot programs designed to help transition recipients of public assistance to meaningful careers. The Academy has already benefited more than 1,000 Fresno families, and will enroll 2,300 more in the next three years.
Video by Talking Eyes Media
California Bridge Academies
(formerly Fresno Bridge Academy)
Update
After expanding to several additional counties and serving more than 4,000 families, in 2018 the Fresno Bridge Academy was renamed the California Bridge Academies. That same year, Pete transitioned into the role of Founder and Chair Emeritus.
---
The written profile and video reflect the work of the leader(s) the year they received a Leadership Award. Please contact the leader(s) for current information.