Helping Latino Parents Close the Learning Gap
In California, children too often arrive at school unprepared for the challenges that await them. Achievement gaps — especially for children from low-income communities — can develop well before they enter kindergarten and increase over time.
Sandra Gutierrez, Founder and National Director of Abriendo Puertas/Opening Doors, is working to close this gap with a curriculum that prepares low-income Latino parents to be their children's first teachers and advocates. Designed by and for parents, the program teaches goal-setting, positive discipline, and health and wellness — directed at improving parents' ability to support their children's early development.
"Parents make a huge difference in their child's early development through small things they can do every day, like talking, singing and reading with them," Sandra Gutierrez says. "But parents need to know what works — and also, their rights and responsibilities."
We can create better outcomes for our kids by engaging parents. Students, schools and society gain when parents can be strong partners in education.

Sandra Gutierrez
Evidence shows the Abriendo Puertas program having a significant impact on parental involvement in early education. An independent study of the program found participants were more likely to read to their children at home, and were better able to identify quality child care — both critical to helping children achieve.
Key to the approach is a welcoming environment. Lessons begin with a dicho, a familiar and traditional way to share wisdom. Parents tell stories and role-play positive interactions with their children, teachers and schools. The highly accessible curriculum is a key reason why the program is one of the most requested among those offered through Head Start. Through partnerships with Los Angeles Unified School District and other systems across California, the program has educated 37,000 parents in 95 cities.
As Gutierrez works to open doors for Latino parents and their children, she is demonstrating the importance of investments in early education and the value of engaging individuals and families as full partners when delivering services to communities in need.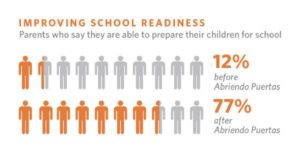 Video by Talking Eyes Media
---
The written profile and video reflect the work of the leader(s) the year they received a Leadership Award. Please contact the leader(s) for current information.