Written by Don Howard, President and CEO of The James Irvine Foundation
Today is one of my favorite days of the year — when we announce the outstanding recipients of our Leadership Awards and celebrate them with you.
For more than a decade, The James Irvine Foundation Leadership Awards have recognized leaders with a commitment to innovation and a record of success in improving people's lives, creating opportunity, and contributing to a better California. This year's Award recipients are creating real change and inspiring others to follow their lead.  
Selected from a competitive pool of 394 nominations, the 2023 Award recipients are advancing creative solutions to several critical issues facing California: housing and homelessness, tribal sovereignty and family welfare, criminal justice reform, human rights, education, food insecurity, climate change, and economic justice.
Each demonstrates exceptional leadership — characterized by significance, innovation, effectiveness, inclusiveness, timing, and leadership capacity — and will receive a $250,000 grant and additional resources to support their work and to help share their effective approaches with policymakers and peers.
The Irvine Foundation is proud to support these leaders and their organizations as they boldly address current and future challenges in California. We hope you will take a moment to learn about them.
Please join us in celebrating the 2023 recipients: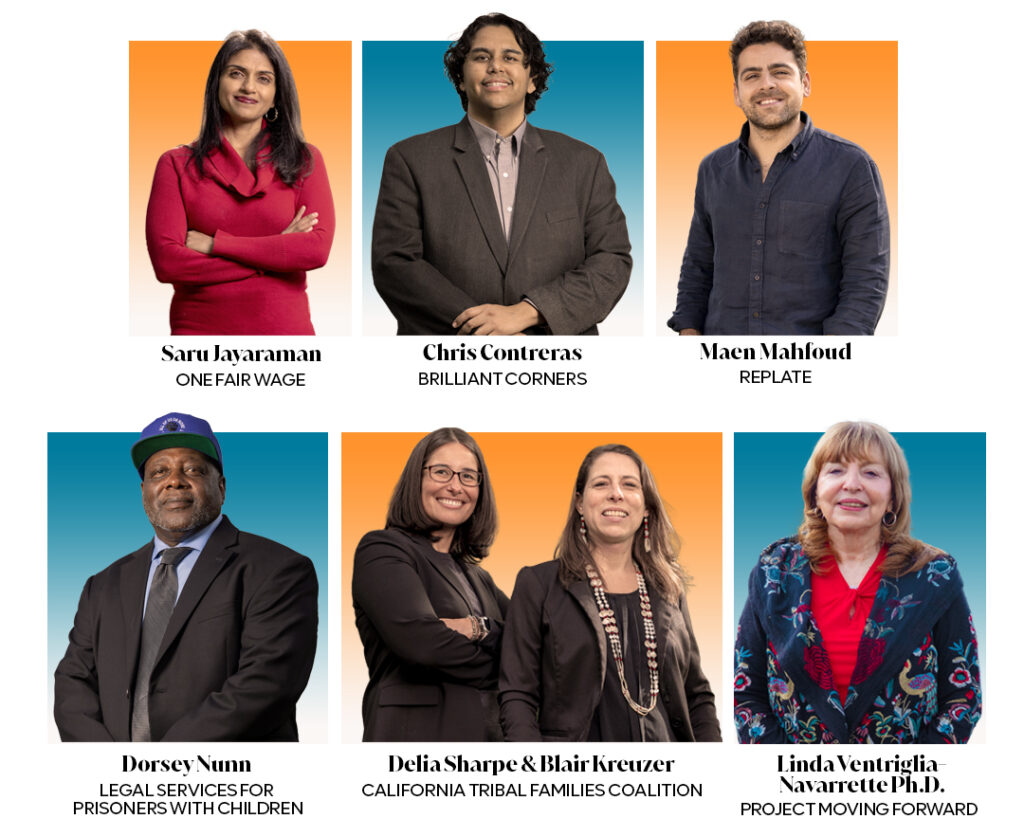 Chris Contreras, Chief Program Officer of Brilliant Corners, for helping people exit homelessness through rapid housing placements and supportive services
Saru Jayaraman, President of One Fair Wage, for improving pay and working conditions for Californians through advocacy, organizing, and shifting the narrative about the value of work
Blair Kreuzer and Delia Sharpe, current Co-Executive Director and founding Executive Director of California Tribal Families Coalition, for advancing tribal sovereignty by unifying tribes to protect their children and families
Maen Mahfoud, Founder and Chief Executive Officer of Replate, for addressing climate change by helping businesses donate surplus food and reduce waste
Dorsey Nunn, Executive Director of Legal Services for Prisoners with Children, for fighting for dignity, freedom, and opportunity for people affected by incarceration
Linda Ventriglia-Navarrette, Ph.D., Director of Project Moving Forward, for transforming language and literacy education for early childhood English learners
More detail about the work of this year's recipients is available here.  
We are inspired by these leaders and look forward to celebrating other Californians advancing impactful solutions in 2024. If you know a leader (or leaders) doing innovative work that benefits the people of California, please nominate them for a 2024 Leadership Award. Nominations open today.